Contact us
For any suggestions and / or claims feel free to contact us :
Domaines Vinsmoselle
BP 40 | L-5501 Remich
12 route du vin | L-5450 Stadtbredimus
Tél: (352) 23 69 66-1 | Fax: (352) 23 69 91 89
E-mail:
Domaines Vinsmoselle
Domaines Vinsmoselle is the first wine and Crémant producer in Luxembourg. Since 1921, the winegrowers' cooperative has been producing the finest wines, which have been awarded regulary with international prizes in numerous competitions. The 240 winegrowers who belong to the big Domaines Vinsmoselle family grow wine in exclusive locations (lieux-dits) along the Moselle River.  On 42 km along the river, from Schengen to Wasserbillig, they grow and harvest the most different grape varieties such as: Elbling, Rivaner, Auxerrois, Riesling, Pinot Blanc, Pinot Gris, Pinot Noir, Gewürztraminer and Chardonnay.
Descriptions of the 5 exceptional Magnum wines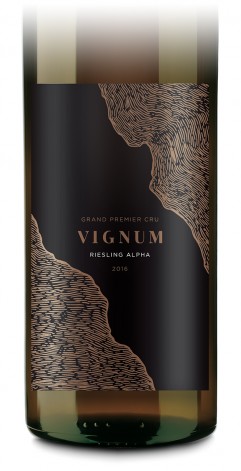 Riesling Alpha fût 270
Couleur jaune intense. Nez fin et élégant, légèrement botrytisé, avec des arômes de fruits secs, de miel et d'épices, des notes minérales qui apportent de la légèreté. En bouche il est fruité avec des arômes de pêche et une légère acidité, bien qu'il reste du sucre résiduel ce vin est aussi fin et élégant qu'un Riesling sec.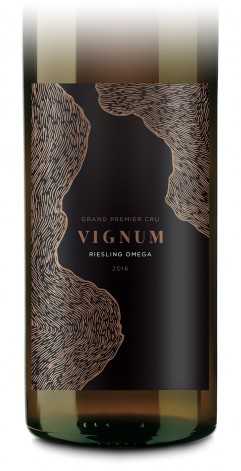 Riesling Omega fût 320
Ce Riesling est fruité exprimant une minéralité filigrane. Un vin juteux et complexe avec des arômes d'abricot et de pêche. Ce vin se prolonge sur une longueur harmonieuse mariée à une structure acide élégante. Il invite à une dégustation prolongée.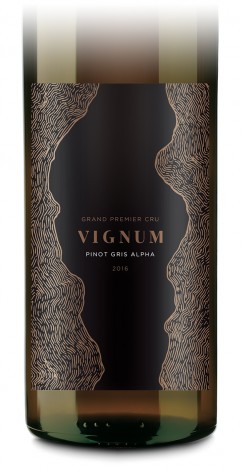 Pinot Gris Alpha fût 271
Couleur jaune intense, nez riche dans lequel on retrouve des arômes de fruits secs, de pruneaux, de miel et de raisins botrytisés. En bouche il est concentré, rond et doux avec des arômes d'ananas, de raisins sur-mûris, de miel. Un vin riche en arômes et en concentration. La légère acidité assure à ce vin un équilibre parfait lui garantissant une belle longueur en bouche.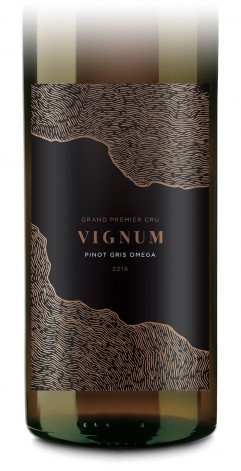 Pinot Gris Omega fût 386
En tant que bon représentant de la typicité du cépage, ce Pinot Gris Foulschette offre des notes fumées et épicées de cuir et d'orange. Les papilles s'amusent de sa grande finesse et de son élégance, combinées  à sa puissance et  sa concentration. Au palais, c'est un vin volumineux qui se montre crémeux et chaleureux. La finale est longue et persistante. Une combinaison parfaite entre Lieu-dit, cépage et art de la vinification.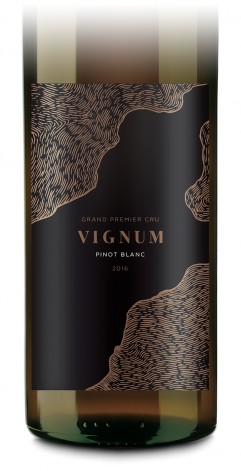 Pinot Blanc fût 359
Ce Grand Premier Cru montre déjà tout son potentiel. Son nez est caractérisé par des arômes de fruits exotiques, de poires mûres et de subtiles notes boisées. En bouche, il impressionne par sa douceur et sa rondeur remarquable, ses arômes de poires, ainsi que ses notes vanillées et florales sont celles d'un Pinot Blanc typique. Bien qu'il soit riche, il reste parfaitement équilibré. La finale est fraîche et d'une longueur remarquable. Ce vin est parfaitement adapté pour accompagner à merveille les plats aux fruits de mer, poissons, veau et porc ainsi que la volaille, grâce à son corps modéré et son acidité agréablement rafraîchissante. Faites-vous le plaisir de le déguster à parfaite température, vous ne le regretterez pas.
VIGNUM - at a glance
VIGNUM is a fantasy name that describes all the characteristics of this unique Crémant and the wines. The name hides various information that can be found in this range of products:
Tradition: the Latin name refers to the wine culture of the Romans, who cultivated the first vines along the Moselle River over 2,000 years ago. The first letters stand for VICTORY, because the Romans conquered this area before they settled down and established villages. Of course, it also alludes to its own tradition: POLL-FABAIRE is one of the first producers of Crémant in Luxembourg. Domaines Vinsmoselle is the first wine producer in the Grand Duchy with their first cooperative winery founded in 1921.
Unique: the landscape and the soil, on which the wine is grown, are unique in the world. The name VIGNUM is partly derived from the word SIGNUM, which means signature or imprint, as a fingerprint. It also alludes to the footprint: this detail can be seen particularly in the design of the label. The footprint in turn points to the winegrower who cultivates and maintains his vineyards.
Greatness: the Crémant VIGNUM belongs to the very special Crémants of POLL-FABAIRE. Some of the base wines have aged in wooden barrels and give this Crémant that little bit of extra exclusivity. Convince yourself. The Wines of the VIGNUM product range exclusively come in Magnum bottles in 2018. Festive, impressive and very fancy! The bottles are absolutely eye-catching, whether you bring it as a gift or serve it as a special wine for a special dinner.
Design
The hand-designed label reflects the characteristics of the name. There are no limits to the imagination when looking at it. You can see river landscapes, vineyards, valleys and hills, pore structures and light & shade. It is mystical, elegant and venerable at the same time. The label tempts you to touch, open and enjoy the bottle.
All the wines can be tasted in our wine shops. Visit us