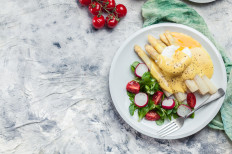 Green asparagus quiche
For 4 people:
Asparagus and eggs
1 kg white asparagus
1 tsp sugar
500 ml water
1 tbsp white wine vinegar
4 eggs
Hollandaise sauce
165 g butter
2 egg yolks
2 tbsp water
1/2 tbsp lemon juice
Salt, to taste
White pepper, to taste
Prepare the hollandaise sauce
Melt the butter in a pan, but do not heat it.
Put the egg yolks, lemon juice, water and salt in a saucepan and place it in a hot water bath.
Stir with an electric whisk until the mixture is creamy.
Remove the saucepan from the water bath.
Gradually add the melted butter in small amounts, stirring constantly.
Season the hollandaise sauce with salt and pepper.
Peel the asparagus, remove the woody ends.
Cook the asparagus spears in plenty of salted water with sugar for 12 minutes.
Bring 500 ml water to the boil, add vinegar.
Crack the eggs one by one into a soup ladle, carefully slide into the water.
Cook over a low heat for 5 minutes, then remove with a skimmer.
Arrange the white asparagus with the poached egg and serve with hollandaise sauce.
Serve with a fresh lamb's lettuce with tomatoes and radishes.

We recommend the Spring Wine as table wine
Find a selection of our wines and crémants in the online shop
and you can also buy all of our wines and crémants in the wine shops:
Remerschen, Wellenstein, Wormeldange, Grevenmacher and Vinocity