Contact us
For any suggestions and / or claims feel free to contact us :
Domaines Vinsmoselle
BP 40 | L-5501 Remich
12 route du vin | L-5450 Stadtbredimus
Tél: (352) 23 69 66-1 | Fax: (352) 23 69 91 89
E-mail:
Publié le 07.10.2014
Mundus Vini 2014 - 3x Gold - 2x Silver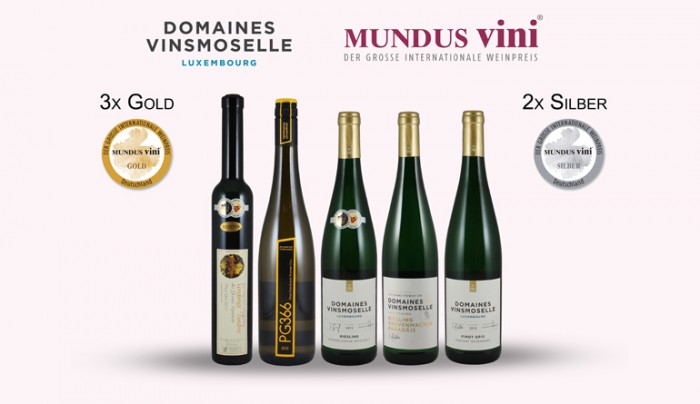 Domaines Vinsmoselle mit 3 Gold- und 2 Silbermedaillen beim renomierten Mundus Vini prämiert
Alle angestellten Weine werden nach strengsten Regeln blind verkostet, dabei werden max. 40% der angestellten Weine prämiert. 160 internationale Verkoster aus 38 verschiedenen Nationen bilden die Jury dieses Wettbewerbes.
Folgende Weine von Domaines Vinsmoselle wurden mit Gold prämiert:
2013 Riesling Wormeldange Wousselt GPC
2013 Riesling Grevenmacher Paradais GPC
2012 Pinot Gris Vendange tardive Sélection GPC
Mit Silber ausgezeichnet wurden:
2013 Pinot Gris Machtum Rosenberg GPC
2013 Pinot Gris Jongwenzer GPC
Die Winzer und Kellermeister der Domaines Vinsmoselle sind sehr stolz auf dieses Ergebnis und sehen sich in ihren Qualitätsbestrebungen bestätigt.
< Retour aux actualités