Contact us
For any suggestions and / or claims feel free to contact us :
Domaines Vinsmoselle
BP 40 | L-5501 Remich
12 route du vin | L-5450 Stadtbredimus
Tél: (352) 23 69 66-1 | Fax: (352) 23 69 91 89
E-mail:
Publié le 28.01.2015
Nouvel habillage de notre jus de raisins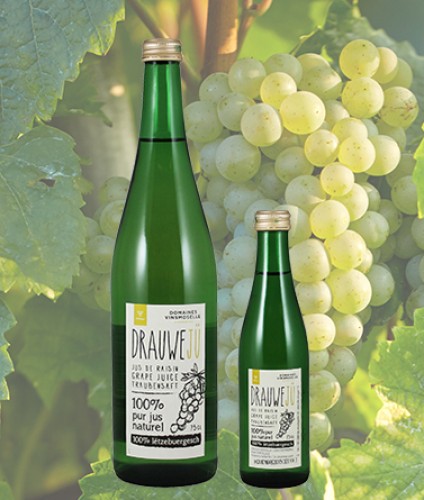 Domaines Vinsmoselle souhaiteraient vous présenter leur "Drauwejü" avec son nouvel habillage. Ce jus de raisin est frais, fruité et doux. Produit de raisins 100% luxembourgeois il s'adapte parfaitement à la consommation des enfants, des femmes enceintes ainsi des conducteurs. En plus, il est riche de minéraux bons pour la santé. Le bouchon à vis est idéal pour refermer la bouteille.
Le « Drauwejü » est disponible dès maintenant dans nos vinothèques à Remerschen, Wellenstein, Wormeldange, Grevenmacher et Vinocity à Luxembourg ainsi que dans notre shop online : shop.vinsmoselle.lu
< Retour aux actualités