Contact us
For any suggestions and / or claims feel free to contact us :
Domaines Vinsmoselle
BP 40 | L-5501 Remich
12 route du vin | L-5450 Stadtbredimus
Tél: (352) 23 69 66-1 | Fax: (352) 23 69 91 89
E-mail:
Publié le 07.11.2017
Festival des Crus Wellenstein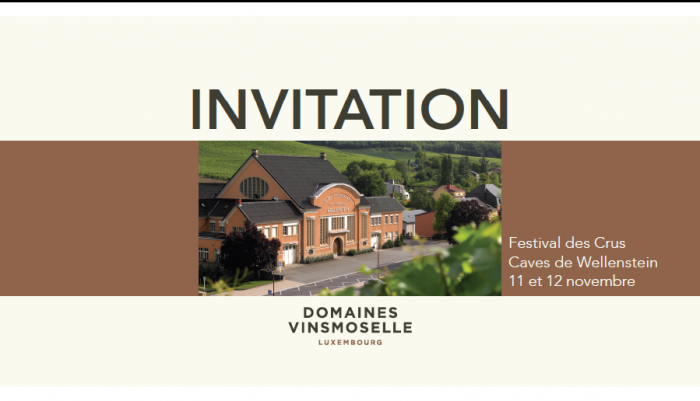 The winemakers of the Cellars of Wellenstein warmly invite you to their Festival des Crus.
Come and discover the great wines and Crémants POLL-FABAIRE and make your selection of fine wines for your special festive season.
Throughout the weekend, our cellar masters will be delighted to present you their 2016 vintage, as well as the best treasures of our cellars. They are particularly proud to present the Pinot Gris Charta Schengen Prestige 2016, which has been awarded three stars by the Guide Hachette 2018 and has also received a gold medal at the Berliner Wein Trophy this summer. Let yourself be tempted by the flavours of our vendanges tardives, our vieilles vignes and our vins moelleux, the perfect accompaniment for your feast meals.
Be the first to enjoy our Pinot Noir Primeur and Auxerrois Nouveau, two fresh wines that will already give you a first impression of the vintage 2017.
< Retour aux actualités