Contact us
For any suggestions and / or claims feel free to contact us :
Domaines Vinsmoselle
BP 40 | L-5501 Remich
12 route du vin | L-5450 Stadtbredimus
Tél: (352) 23 69 66-1 | Fax: (352) 23 69 91 89
E-mail:
Publié le 16.02.2018
Domaines Vinsmoselle wins Grand Taste Award at the Food Summit 2018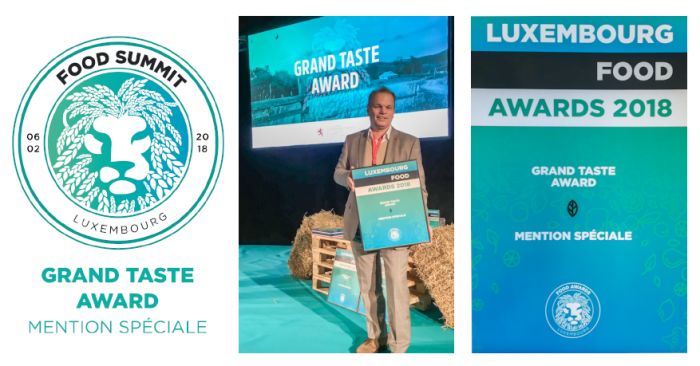 The Food Summit 2018 took place on 6 February in the Victor Hugo Hall. The Food Summit was organised under the patronage of the Ministry of Agriculture and brings together representatives and producers of the Luxembourg food industry. The visitors included representatives from the HORECA sector, producers, distributors and interested end consumers. Among several interesting conferences, a main highlight of the fair was the presentation of 2018's Food Awards.Domaines Vinsmoselle has been able to win in the category "Grand Taste Award" and received the prize for the Charter Schengen Prestige 2016 Pinot Gris. A jury of top chefs from Luxembourg made a tasting of the products at the stands during the Food Summit. Criteria such as taste, texture, packaging etc. were evaluated. The entire team of Domaines Vinsmoselle has been over the moon to win this award.
< Retour aux actualités