Contact us
For any suggestions and / or claims feel free to contact us :
Domaines Vinsmoselle
BP 40 | L-5501 Remich
12 route du vin | L-5450 Stadtbredimus
Tél: (352) 23 69 66-1 | Fax: (352) 23 69 91 89
E-mail:
Publié le 01.05.2018
Proufdag on 1 May 2018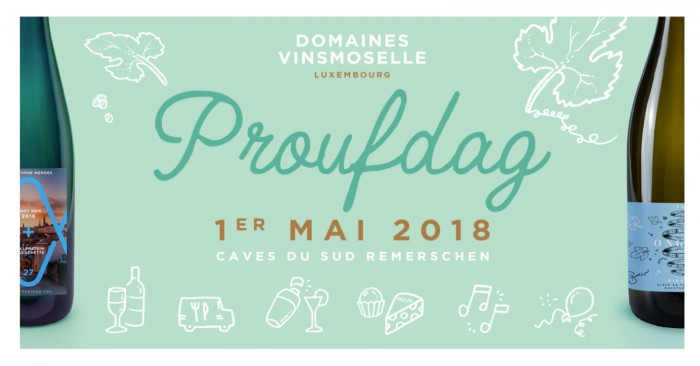 Our cellar masters invite you to our traditional Proufdag on 1 May 2018 at the wine cellar of Remerschen and they are waiting for you
with our entire product range from Charta Schengen Prestige  to Poll-Fabaire and up to our special products. You can also taste the new wine of the new vintage 2017 and further exclusive novelties. We are looking forward to a convivial day with music, entertainment for your small ones, foodtrucks and culinary delights of our partners.
At 1 May, we are supported by the elite of Luxembourg's Barkeepers: The "Association Luxembourgeoise des Barmen" are going to prepare  innovative wine cocktails for you.
Please make your reservation  for the lunch in our wine shop under the following number: +352 23 66 48 26. A reservation in advance would be necessary. We are looking formward to welcome you on 1 May 2018.
< Retour aux actualités