Contact us
For any suggestions and / or claims feel free to contact us :
Domaines Vinsmoselle
BP 40 | L-5501 Remich
12 route du vin | L-5450 Stadtbredimus
Tél: (352) 23 69 66-1 | Fax: (352) 23 69 91 89
E-mail:
Publié le 08.11.2018
The first taste of 2018's vintage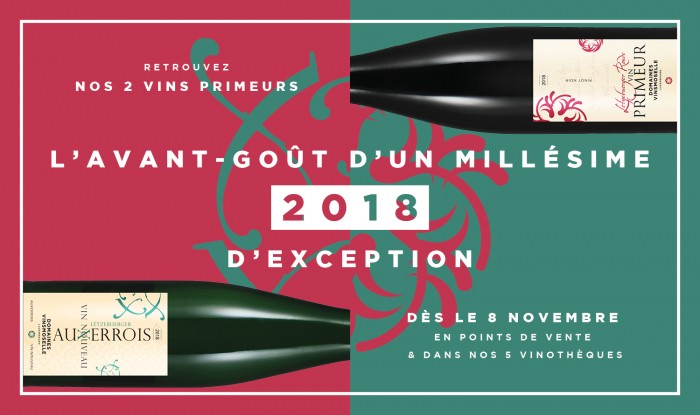 «  Pinot Noir Primeur » and « Auxerrois Nouveau » 2018
The media reports before and during the 2018 vintage made us all curious. What does the highly promoted 2018 vintage taste like? Unfortunately, we still have to wait until spring, when the 2018 wines will finally be launched. To have a first taste of the long awaited products, get Domaines Vinsmoselle's Primeur Wines, which will be available in stores starting from Thursday 8 November!
The 2018 Primeur wines, made from 100% Luxembourg grapes, are the first representatives for this new exceptional vintage.
Due to its very hot temperatures and extreme dryness, the year 2018 was a great challenge for nature and people. There were ups and downs and moments of fear. But what we were able to harvest in fall was of an exceptional quality. We got very mature and healthy grapes with a lot of aromas and very high fructose levels. Optimal conditions for an excellent wine.
The 2018 vintage of Pinot Noir Primeur has a very intense and brilliant cherry red colour. Very aromatic in the nose, it has already notes of chocolate and ripe red fruits. Dense, with a lot of volume and power, it impresses on the palate. It is a full-bodied, complex and very harmonious wine with fine tannins. A beautiful acidity completes the wine, it tastes fresh and young. The time between harvest and start of sales is very short. Despite his young age, the Primeur's flavours come warm and vinous. The ideal temperature to enjoy is 14°. It pairs perfectly with the following dishes: pizza, tarte flambée, quiche Lorraine, pudding, cheese and ham platter, with fresh baguette and with fondue in winter.
The quality of the Auxerrois Nouveau 2018 is in no way inferior to the quality of the Pinot Noir Primeur. It is a wine with intense and fruity notes of yellow fruit and orange. Also this year, the Auxerrois is very dense and characterized by its high maturity. On the palate, you find pronounced aromas of pear. Anyone who knows the taste of Auxerrois will recognize in this wine all the typical flavours of this grape variety. It is fresh and already full-bodied with a slight acidity and a finesse that shows a beautiful body and aromatic power.  It offers a beautiful length on the palate, yet it is almost creamy, which invites you to drink a second glass. We recommend a temperature of 8 to 10°. It harmonizes perfectly with a mixed salad, poultry or pasta.
Both 2018 Primeur Wines will be available from Thursday 8 November in stores, in the 5 wine shops of Domaines Vinsmoselles and online: www.vinsmoselle.lu
< Retour aux actualités