Contact us
For any suggestions and / or claims feel free to contact us :
Domaines Vinsmoselle
BP 40 | L-5501 Remich
12 route du vin | L-5450 Stadtbredimus
Tél: (352) 23 69 66-1 | Fax: (352) 23 69 91 89
E-mail:
Publié le 26.03.2019
Berliner Wein Trophy winter 2019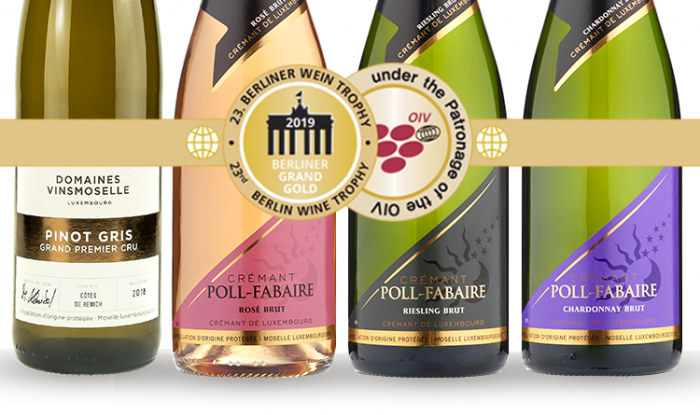 Wines from Domaines Vinsmoselle once again awarded the Berliner Wein Trophy
The Berliner Wein Trophy has become Germany's most important and largest international wine tasting under the auspices of the OIV and the UIOE and brings together renowned producers and traders from all over the world every year. More than 150 top jurors awarded the coveted medals during the winter edition in February.

Domaines Vinsmoselle emerged from 1,426 submissions from 41 countries with 5 gold and one silver medals. In addition, the winegrowers' cooperative was awarded the prize for Best Producer "still wine" from Luxembourg.

The winegrowers, cellar masters and the entire Domaines Vinsmoselle team are very proud of this great result and see it as confirmation of their rigorous work in the cellar and vineyard. The winegrowers' association, which has its origins in 1921, attaches great importance to the site wines that have been convincing the Luxembourg and international wine world for years.
Medals table:
Gold
Crémant POLL-FABAIRE Cuvée Riesling AOP / L - 152
Crémant POLL-FABAIRE Cuvée Chardonnay AOP / L - 140
Crémant POLL-FABAIRE Cuvée Rosé AOP / L - 966
Pinot Gris, Côtes de Remich GPC 2018 AOP / L - 5008
Pinot Lux 2018 AOP / L - 9527
Silver
Pinot Blanc, Côtes de Remich 2018 AOP / L - 4002
< Retour aux actualités