Contact us
For any suggestions and / or claims feel free to contact us :
Domaines Vinsmoselle
BP 40 | L-5501 Remich
12 route du vin | L-5450 Stadtbredimus
Tél: (352) 23 69 66-1 | Fax: (352) 23 69 91 89
E-mail: info@vinsmoselle.lu
Publié le 28.05.2019
8 x Gold for Crémants POLL-FABAIRE at the "Concours des Crémants de France et du Luxembourg"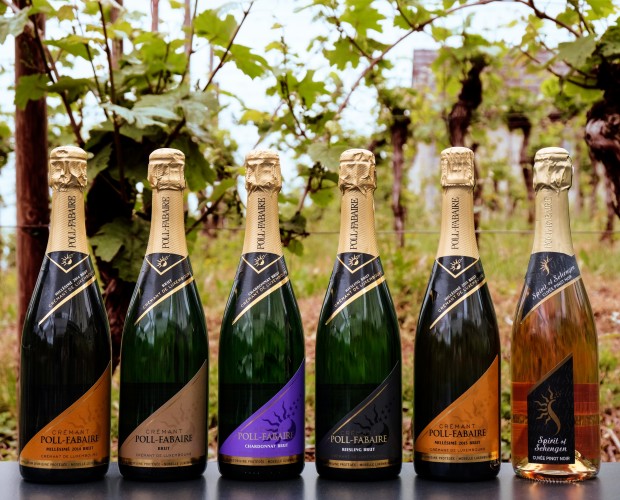 Last weekend the Concours International des Crémants de France et du Luxembourg took place for the 28th time in Die. In this competition, the jury consists of a good 200 people, divided into 39 tables of 5 to 6 people each, tasting and judging around 620 crémants. Many producers have travelled a long way, not only to fulfil their duties as jurors, but also to exchange ideas with their colleagues and discover new things. 
The Crémants come from all known Crémant regions in France and Luxembourg: Alsace, Burgundy, Loire, Jura, Savoie, Bordeaux, Die, Limoux and the Luxembourg Moselle. The evaluation procedure is as follows: Each table tastes crémants from the same region, compared with competing crémants from the same region. It also ensures that no producer, oenologist or president tastes or evaluates his own product.
In Luxembourg, we use very different grapes than our colleagues from the other Crémant regions. Our grapes are mainly Auxerrois, Pinot Blanc, Pinot Noir and Riesling. In Bordeaux, for example, Sauvignon, Sémillon and Muscadelle characterise the crémant. The soils are also totally different, so it makes sense to compare and evaluate the same with the same. 
"The overall result of 21 gold medals and 6 silver medals is simply fantastic for our Luxembourg Crémants! Another proof that the consumer here in the country can fall back on regional and above all extraordinary products," says Josy Gloden, President of Domaines Vinsmoselle. Of course, he is also very proud of his own medals: no less than 8 Crémants POLL-FABAIRE were awarded exclusively with gold medals, which at the same time represents the best Luxembourg result. This shows that the efforts in the vineyard and the continuous optimization of the quality of your fruit have borne fruit. A truly outstanding award for the Crémants of the Domaines Vinsmoselle winegrowers' cooperative.
Concours des Crémants 2019
Médaille d'Or Crémant POLL-FABAIRE Cuvée Brut AOP
Médaille d'Or Crémant POLL-FABAIRE Cuvée Chardonnay AOP
Médaille d'Or Crémant POLL-FABAIRE Cuvée Riesling AOP
Médaille d'Or Crémant POLL-FABAIRE Cuvée Brut AOP
Médaille d'Or Crémant POLL-FABAIRE Cuvée Chardonnay AOP
Médaille d'Or Crémant POLL-FABAIRE Millésimé 2014 AOP
Médaille d'Or Crémant POLL-FABAIRE Millésimé 2015 AOP
Médaille d'Or Crémant POLL-FABAIRE Spirit of Schengen Pinot Noir AOP
< Retour aux actualités