Contact us
For any suggestions and / or claims feel free to contact us :
Domaines Vinsmoselle
BP 40 | L-5501 Remich
12 route du vin | L-5450 Stadtbredimus
Tél: (352) 23 69 66-1 | Fax: (352) 23 69 91 89
E-mail:
Publié le 07.08.2019
Berliner Wine Trophy Summer 2019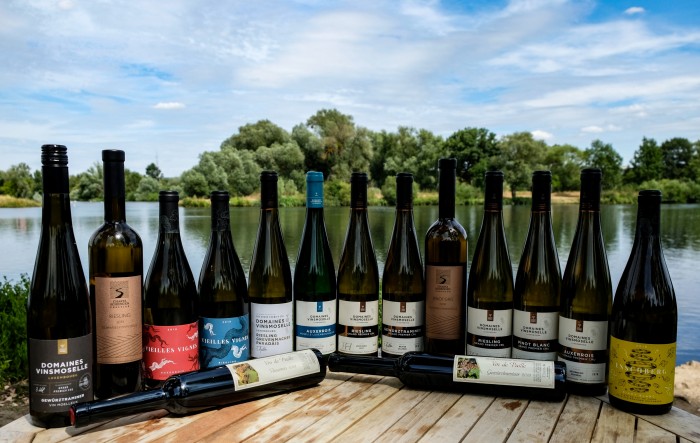 Beautiful result at the Berliner Wein Trophy
The Berliner Wein Trophy has become the largest and most important international wine competition in Germany under the patronage of the OIV and the UIOE. Every year, it brings together the world's most renowned producers and distributors. More than 150 experts awarded the coveted medals in July.

The wines of Domaines Vinsmoselle won the "Grand Or" award (Großes Gold), 9 gold medals and 5 silver medals for the summer edition of the Berliner Wein Trophy, an exceptional result.

The winegrowers, cellar masters and the entire team at Domaines Vinsmoselle are delighted with the result and are delighted to see confirmation of their rigorous work in the cellars and vineyards. The winegrowers' cooperative, created in 1921, attaches great importance to wines from localities that have seduced the Luxembourg and international wine-growing world for years. 

"Our winegrowers have been relying on integrated viticulture for years. No insecticides are used and fertilization is largely organic and through weed control, which contains nitrogen-fixing plants. Every effort is made to protect the vines and nature", says the management. These efforts are not only good for nature and the environment, but they also make a difference in the final product. 
Medals 

Großes Gold 
Gewürztraminer GPC 2018 Vin de Paille, fût n° 370

Gold
Auxerrois GPC 2018 Vin de Paille, fût n° 371
Auxerrois GPC 2018 Vielles Vignes, fût n° 301
Auxerrois AOP 2018 Côtes de Remich, fût n° 82
Riesling 2018 Charta Schengen Prestige, fût n° 274
Riesling GPC 2018 Greiveldange Hütte, fût n° 170
Riesling GPC 2018 Grevenmacher Paradäis, fût n° 405
Riesling GPC 2018 Vieilles Vignes, fût n° 510
Gewürztraminer GPC 2018 Machtum Göllebour, fût n° 10
Gewürztraminer GPC2018 Vin Moelleux, fût n° 428

Silver
Auxerrois GPC 2018 Grevenmacher Rosenberg, fût n° 157
Pinot blanc GPC 2018 ENSCHBERG Fût de chêne, fût n° 271
Pinot blanc GPC 2018 Machtum Hohfels, fût n° 415
Riesling GPC 2018 Stadtbredimus Dieffert, fût n° 183
Pinot gris 2018 Charta Schengen Prestige, fût n° 269
< Retour aux actualités