Contact us
For any suggestions and / or claims feel free to contact us :
Domaines Vinsmoselle
BP 40 | L-5501 Remich
12 route du vin | L-5450 Stadtbredimus
Tél: (352) 23 69 66-1 | Fax: (352) 23 69 91 89
E-mail:
Publié le 26.04.2020
Spring Festival: a digital Proufdag Experience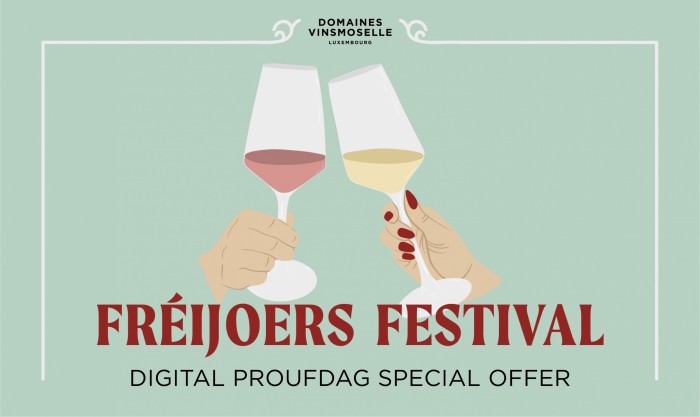 We are all currently experiencing an unusual and sometimes difficult time, with many questions, but also positive aspects such as increased solidarity and strong cohesion.
Our highlight of the spring, the traditional "Proufdag" on 1 May, we unfortunately have to cancel due to the occasion. We would like to invite you on a somewhat different pleasure trip.
On the occasion of our Spring Festival, discover our exquisite and exceptionally strong 2018 and fresh 2019 wines, our specialities, as well as the popular Crémants POLL-FABAIRE . We have put together a selection with the proven special conditions of the "Proufdag" for you in the enclosed order form or simply order with Promocode: 10%Discount , via our onlineshop https://shop.vinsmoselle.lu/
As we cannot invite you to visit us this year, we will of course deliver your order to your home free of charge (only valid for Luxembourg, other deliveries on request)
In this way, let us drink a toast together to health and better times.
< Retour aux actualités