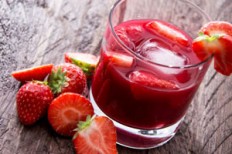 Strawberry punch
Recipe for 6-8 persons
500g Strawberries
3-4 tablespoons of sugar
(depends on individual taste)
1 bottle Domaines Vinsmoselle Rose wine
1 bottle Crémant POLL-FABAIRE
Cut the strawberries into small pieces and sweeten them to taste.
Put them for about 2 hours in the fridge.
Put the strawberries and their juice in a punch bowl, add the rose wine.
Put the bowl into the fridge over night for about 12 hours.
Also put the crémant in the fridge.
Add the crémant last, just before serving.