Contact us
For any suggestions and / or claims feel free to contact us :
Domaines Vinsmoselle
BP 40 | L-5501 Remich
12 route du vin | L-5450 Stadtbredimus
Tél: (352) 23 69 66-1 | Fax: (352) 23 69 91 89
E-mail: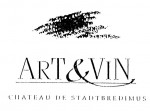 ---
Limited edition - Art & Vin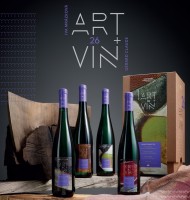 Created by Domaines Vinsmoselle in 1987,
the Art & Vin collection is now in its 26th edition.
Since 29 years "Art & Vin"  combines the muses of art and wine in a special way. In this 26th edition, the labels are illustrated by two of Luxembourg's most famous artists: the Czech painter Ivá Mrázková and the Luxembourgish sculptor Gérard Claude. Representing the historic bond, Luxembourg shares with the Czech Republic.
The six selected Grand Premier Cru wines grew in the best terroirs of the Luxembourgish Moselle. Four out of these six impressive wines, were chosen to form our special gift package including two high-end brochures giving a glimpse on the historic bond as well as an extensive description of these fine wines.
Art & Vin, a way of blending art with the art of winemaking... and an opportunity for you to taste the myriad of flavours bursting from the grape varieties of Luxembourg's Moselle region.
Auxerrois, Pinot Blanc, Pinot Gris and Riesling
All the wines can be tasted in our wine shops. Visit us