Contact us
For any suggestions and / or claims feel free to contact us :
Domaines Vinsmoselle
BP 40 | L-5501 Remich
12 route du vin | L-5450 Stadtbredimus
Tél: (352) 23 69 66-1 | Fax: (352) 23 69 91 89
E-mail: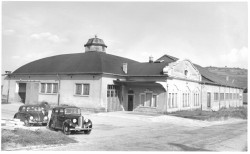 100 years Caves coopératives des vignerons Grevenmacher
Viticulture on our Luxembourg Moselle is probably one of the oldest cultures in our region. The oldest written testimony dates back to 367 AD, in which a poet praises the vines on the "Mosella", which grow on the lovely banks of the Moselle between Wasserbillig and Remich.
However, at the beginning of the 20th century, it was not only the pests in the vineyards that worried the winegrowers, but also the termination of membership of the German Customs Union and the resulting crisis for Luxembourg winegrowing. 
In 1921, 25 winegrowers finally got together and officially founded the first winegrowers' cooperative in Grevenmacher on 4 September 1921. This was the beginning of a new era in Luxembourg's winegrowing industry. The 25 winegrowers cultivated a total vineyard area of 10 hectares and expected a result of about 30 tuns. In any case, this meant that the winegrowers' cooperative had made the richest harvest on the entire Luxembourg Moselle. The first year of the winegrowers' cooperative was a blessed year, as it was an exceptionally good vintage, and thus a wine of the century was produced. 
The first president of the winegrowers' cooperative was Paul Faber, who held the post until his death on 26 February 1954. In memory of the first president of the winegrowers' cooperative, Paul Faber also became the name bearer of our Crémant brand Poll-Fabaire, which was born in 1991.
Until the construction of the cooperative winery on "Kopgewân" in 1928, the wine was produced in rented cellars on the Moselle Bridge, the Stadthauskeller and the Loretzenkeller.
In the following years, 5 more cellar cooperatives were founded. Stadtbredimus in 1927, Wormeldingen and Greiveldingen in 1930, Wellenstein in 1931 and finally Remerschen in 1949. In 1966, the merger of 5 cellar cooperatives, except Wormeldingen, which remained independent until 1989, led to the foundation of today's "Domaines Vinsmoselle".

Rulänner, Grevenmacher Fels, 2020, Grand Premier Cru
For this anniversary we offer you a special and exclusive wine
"Rulänner Edition spéciale 100 ans Caves coopératives des vignerons Grevenmacher" - a Pinot Gris Grand Premier Cru Grevenmacher Fels. Grevenmacher Fels is one of the most famous terroirs of the Luxembourg Moselle and can be found south of Grevenmacher.
This Pinot Gris is remarkable for its beautiful yellow colour with golden reflections. The very expressive nose reveals scents of yellow fruits and smoke. The palate offers a beautiful finesse, elegance and power, as well as aromas of quince and mirabelle plum that persist on the palate. A hint of minerality on the finish enhances this anniversary cuvée.
Sorry, this article is out of stock