Contact us
For any suggestions and / or claims feel free to contact us :
Domaines Vinsmoselle
BP 40 | L-5501 Remich
12 route du vin | L-5450 Stadtbredimus
Tél: (352) 23 69 66-1 | Fax: (352) 23 69 91 89
E-mail: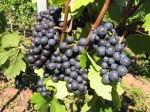 ---
Pinot Noir Luxembourg

Pinot Noir Pinot from the Moselle in Luxembourg
With more than 300 winemakers, Domaine Vinsmoselle, Luxembourg wine market leaders, enjoys the diversity of the soils in the Moselle Valley to produced rich and varied Pinot Noir with distinct flavour.
Pinot noir plays an important role as the basic wine for crémant, rosé or pressed as a white wine for the summer, as well as a complex red wine from an oak barrel.A ripe Pinot noir has aromas of black cherries, blackberries and plums, as well as a hint of vanilla and roast aromas, if matured in oak barrels.The varieties Pinot noir précoce, Saint Laurent and Gamay play a rather subordinate role.
Our Pinot Noir from Luxembourg, in red or rosé, are available from Château Edmond de la Fontaine. 
 
All the wines can be tasted in our wine shops. Visit us