Contact us
For any suggestions and / or claims feel free to contact us :
Domaines Vinsmoselle
BP 40 | L-5501 Remich
12 route du vin | L-5450 Stadtbredimus
Tél: (352) 23 69 66-1 | Fax: (352) 23 69 91 89
E-mail: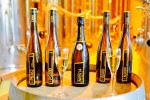 Since 1986, the young winemakers of Domaines Vinsmoselle are trained continuously and are actively involved in Domaines Vinsmoselle projects.
With the support of master winemakers, they produced a selection of "Grand Premier Cru" wines and market them under their own name.
After the selection of four wines, young designers have also taken the initiative to create their own labels which represent as the principal element, the number of the barrel used.
A limited edition of delicious wines: Auxerrois, Pinot Blanc, Pinot Gris and Riesling, to discover without hesitation.
All the wines can be tasted in our wine shops. Visit us