Contact us
For any suggestions and / or claims feel free to contact us :
Domaines Vinsmoselle
BP 40 | L-5501 Remich
12 route du vin | L-5450 Stadtbredimus
Tél: (352) 23 69 66-1 | Fax: (352) 23 69 91 89
E-mail: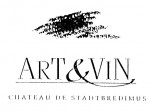 ---
Limited edition - Art & Vin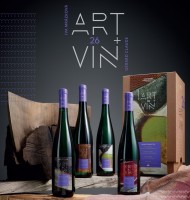 Created by Domaines Vinsmoselle in 1987,
the Art & Vin collection is now in its 26th edition.
SENSORY JOURNEY FROM LUXEMBOURG TO PRAGUE
This year, Art & Vin 26 is honouring two artists of two different nationalities. The first, Iva Mrázková, is Czech. The second, Gérard Claude, is Luxembourgish. Did you know that the Czech Republic and Luxembourg are actually closely linked through history? Perhaps you might have noticed the face of Charles IV, the famous emperor of the Holy Roman Empire in the 14th century, on 100 Czech koruna notes.
This lover of the arts and humanities never tired of embellishing Prague, the imperial capital of the time, be- queathing it a rich architectural heritage. The emperor was thus behind the construction of the famous Charles bridge, which has become one of Prague's enduring symbols. But maybe you didn't know that Charles IV was none other than the son of John the Blind, King of Bohemia and Count of Luxembourg. John the Blind was the archetype of the chivalrous ideal in vogue in the 14th century, and in 1340 he founded the "Schueberfouer", the annual fun fair that still takes place today in Luxembourg.
700 years after the birth of Charles IV, Art & Vin 26 brings this shared history between the Czech Republic and Luxembourg back to life, by inviting two local artists to express their art by working on the same exceptional box set. Iva Mrázková, with her fabrics and painting, and Gérard Claude, with his wood sculptures, offer a showcase that combines history and expertise with these exceptional wines, created using the best grape vari- eties from Luxembourg's Moselle region.
All the wines can be tasted in our wine shops. Visit us