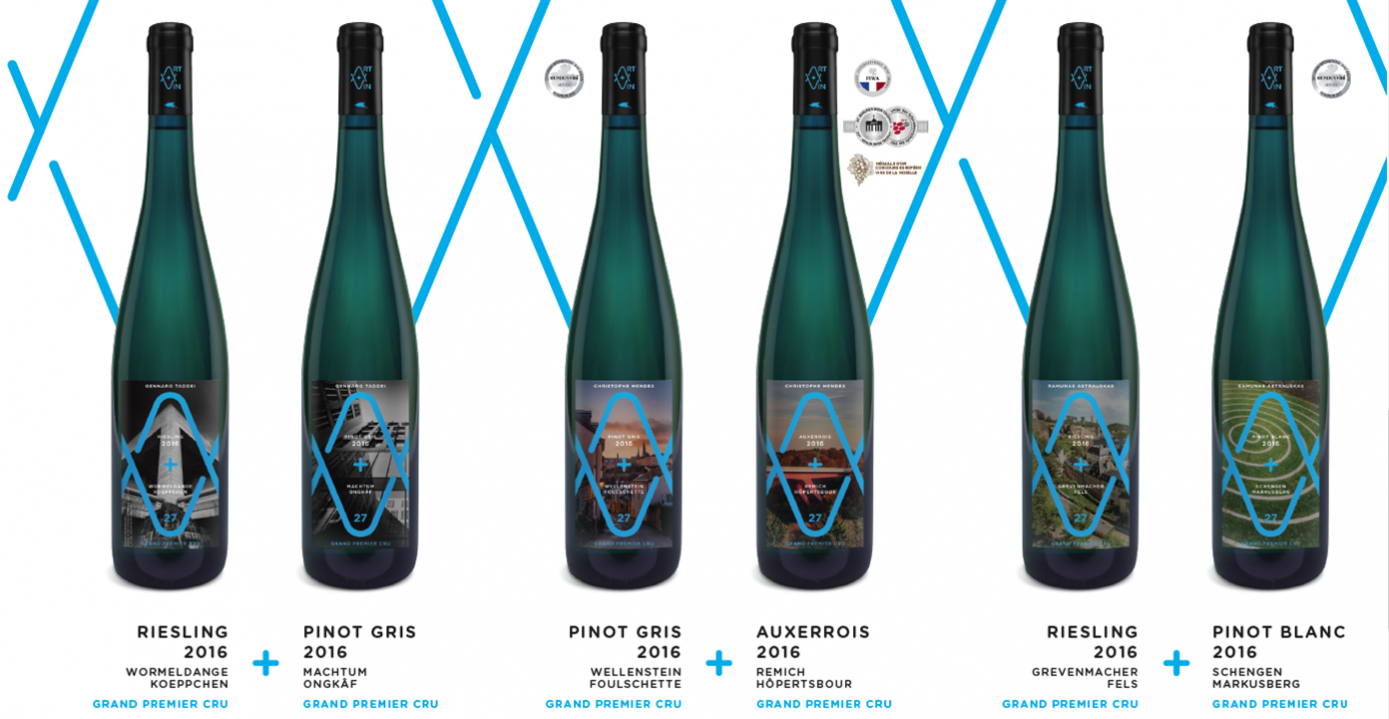 Development and Conception
This year the series Art&Vin will be released for the 27th time. In order to give the series an exceptional design, we launched a photo competition in late summer. Everybody who is enthusiastic about photography could participate. The theme was "Photography and Architecture": Luxembourg as a country of traditions, as "Melting Pot", pioneer in many fields. The rapid development also affects the appearance of this multifaceted country. Which buildings and streets will change in the near future? Which ones will remain, which ones will not be recognized anymore? The submitted photos reflect the typical architecture of Luxembourg - some well known places and buildings, but also undiscovered pearls.
Among the many pictures we received, three photographers were particularly convincing: Gennaro Taddei, Christophe Mendes and Ramunas Astrauskas.
"The focus is on wine": Only top-quality wines are used for the Art&Vin series. They have received numerous awards and testify the excellent work of our winemakers and cellar masters. The fact that the wine and the location are in the foreground was also graphically shown on the bottle label: These elements are literally in focus.
About the label development
When creating the label, attention was paid to establishing the perfect balance between picture and wine. We edited the photos a little bit and put a soft diamond with rounded corners over each one of them. The diamond can be understood as a kind of peephole: You can clearly see the focus, which is represented by a "+". It also imitates the hands that the observer may symbolically hold in front of the eye to have a look at a section more closely. Finally, the individual elements form the title of the series "Art&Vin": The A in the upper part of the diamond stands for "Art", the + for "and" or "&" and the V in the lower part of the diamond stands for "Vin".
If you place the product line next to each other, a photo gallery of our city appears on the photo level, as it exists today in 2018. On the upper level, the wine level, you can see the diamonds that create reflecting waves (through heat-sealing). You can recognize wavelengths and a flexible and at the same time stable construct. The diamonds are represented in icy blue as a contrast, but not as separation, to the picture in the background. The colors are modern and dynamic. The overall appearance corresponds to a contemporary, graphically appealing label. The viewer also discovers the elaborate logo on the capsule. This creates a direct connection between capsule and label. This connection leads to the viewer looking at the product in its entirety and correspondingly also at the bottle, the final product.