Contact us
For any suggestions and / or claims feel free to contact us :
Domaines Vinsmoselle
BP 40 | L-5501 Remich
12 route du vin | L-5450 Stadtbredimus
Tél: (352) 23 69 66-1 | Fax: (352) 23 69 91 89
E-mail: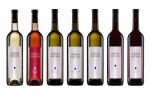 CHÂTEAU EDMOND DE LA FONTAINE
Luxembourg, 1850. Un homme se promène le long des rives de la Moselle.
Derrière lui, des hectares de vignes ensoleillées et tout autant de souvenirs d'une enfance passée à flâner dans la région. De ses terres, le jeune Edmond de la Fontaine (1823-1891) puise son inspiration. Poète, dramaturge, compositeur... celui que l'on surnomme Dicks ne le sait pas encore mais ses oeuvres marqueront à jamais la littérature et le folklore luxembourgeois. Derrière cet épicurien adepte de bonne chère et de bons vins se cache aussi un homme engagé, aux idées révolutionnaires et à la plume acérée. De Luxembourg à Stadtbredimus, d'abord premier juge de paix puis bourgmestre, concerné tant par les affaires nationales du Grand-Duché que par le patrimoine rural de la Moselle, l'artiste est présent sur tous les fronts.

Aujourd'hui, c'est à la nouvelle gamme de vins de Domaines Vinsmoselle qu'Edmond de la Fontaine s'associe. Comme un hommage aux multiples talents de l'artiste, découvrez nos différents vins rouge, rosé et blanc ainsi que nos trois nouveaux cépages: le Pinot Gris, le Riesling et le Chardonnay.
All the wines can be tasted in our wine shops. Visit us