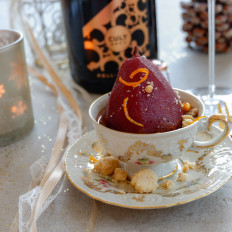 Poached pear in red wine with chocolate-red wine sauce and gingerbread crumble
4 persons:
For the pears:
4 small pears
500 ml red wine Pinot Noir Château Edmond de la Fontaine
15 g sugar
1 cinnamon stick
2 tsp cinnamon
6 cloves
1/2 star anise
2 cardamom pods
For the crumble:
100 g flour
50 g sugar
50 g butter
1 pinch of gingerbread spice
For the chocolate sauce:
200 g dark chocolate coating
80 ml red wine from the poached pears
For the zests:
1 orange
25 ml Cointreau
3 g ground gelatine
This recipe was developed by the blog Cooking is Love. 
Peel the pears carefully. Bring the red wine and spices to the boil, add the pears and leave to simmer over a low heat for 20-30 minutes. Turn the pears occasionally and check with a toothpick that they are cooked.
Pour the wine into a bowl and marinate the pears in it for at least another 6 hours.
For the orange zest, peel half of the orange using a peeler and cut the zest into very fine strips.
Dissolve the gelatine according to the instructions on the packet.
Briefly bring the Cointreau to the boil in a small saucepan. Remove the pan from the heat and add the zest. Then stir in the gelatine, making sure that the orange zest is completely coated. Place them individually on a plate lined with baking paper and leave to cool completely.
Preheat the oven to 160 degrees
For the crumble, melt the butter at a low temperature. Mix the flour with a good pinch of gingerbread spice and the sugar. Add the melted butter and work into crumbles with your hands.
Place the crumble on a baking tray lined with baking paper and place in the oven for 15-20 minutes.
For the chocolate sauce, melt the chocolate with 80 ml of the wine from the pears over a low heat. If the sauce is too thick for you, you can carefully mix in a little wine at the end.
Serve the pears with the chocolate sauce, the crumble and the zest.
Serve with a glass of POLL-FABAIRE Crémant Cult.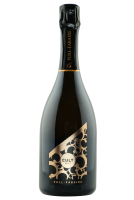 Find a selection of our wines and crémants in the online shop
and you can also buy all of our wines and crémants in the wine shops:
Remerschen, Wellenstein, Wormeldange, Grevenmacher and Vinocity