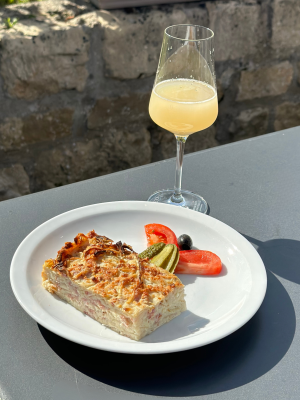 Onion tart
For 1 onion tart (6 people):
For the dough:
250 g of flour
125 g of cold butter, cut into small cubes
A pinch of salt
4 to 5 tablespoons of cold water
For the filling:
4 to 5 medium-sized onions, thinly sliced
2 tablespoons of olive oil
2 tablespoons of butter
2 eggs
200 ml of thick sour cream
Salt and freshly ground black pepper
A pinch of nutmeg (optional)
Instructions:
For the dough:
In a bowl, mix the flour and salt.
Add the diced cold butter and mix until you get a sandy texture.
Gradually add cold water, one tablespoon at a time, mixing with a fork until the dough starts to come together into a ball.
Form the dough into a ball, wrap it in plastic wrap, and refrigerate it for at least 30 minutes.
For the filling:
In a large pan, heat the olive oil and butter over medium heat.
Add the sliced onions and cook them gently for about 20 to 30 minutes, stirring occasionally, until they become tender and lightly golden.
Season with salt, pepper, and nutmeg if desired.
Preheat your oven to 180°C (350°F).
Roll out the dough on a lightly floured surface into a circle about 30 cm (12 inches) in diameter.
Transfer it to a buttered 24 cm (9-inch) tart pan. Prick the bottom of the dough with a fork.
In a bowl, beat the eggs and sour cream. Add a pinch of salt and pepper. Mix well.
Spread the cooked onions over the tart crust.
Pour the egg and cream mixture over the onions.
Bake the tart in the preheated oven for about 30 to 35 minutes, or until it is nicely golden, and the filling is set.
Allow it to cool slightly before cutting and serving.

This onion tart is delicious served warm or at room temperature, accompanied by a green salad.
Enjoy your meal!

We recommend the Fierderwäissen or Fiederrosé to accompany this onion tart in the purest Luxembourgish tradition.
Find a selection of our wines and crémants in the online shop
and you can also buy all of our wines and crémants in the wine shops:
Remerschen, Wellenstein, Wormeldange, Grevenmacher and Vinocity