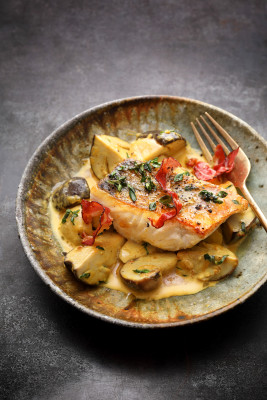 Pike-Perch with Porcini Curry
Serves 6 :
Prep time: 15 minutes
Cooking time: 20 minutes

› 6 pike–perch fillets with skin (6 x 150 g)
› 6 rashers of bacon
› 100 g softened butter
› 1 small bunch of thyme
› 2 cloves of garlic
› 1 tbsp olive oil
› approx. 1 tbsp curry powder
› 600 ml coconut cream
› Fleur de sel & pepper from the mill
› Fine salt
 
Carefully brush the porcini mushrooms and cut into quarters. Remove the bones from the fish. Peel and chop the garlic. Pick the leaves off the thyme.

Mix the butter, thyme leaves and fleur de sel in a bowl. Shape by pressing together and refrigerate.

Heat the oil in a frying pan, add the mushrooms and sauté quickly to keep them firm and prevent them from releasing water. Sprinkle with curry powder and add the garlic, coconut cream and salt. Cook for 8 minutes over a medium heat.

Heat a non–stick frying pan, lay the bacon flat in the pan and grill on both sides. Set aside.

Using the same pan (without rinsing) place the pike–perch fillets skin–side down and cook for 5 minutes over a medium–high heat, then carefully turn them over and cook the other side for 3 minutes. Turn them over one last time, spreading a dab of thyme butter on the flesh. Turn off the heat when the butter has melted and the fish is cooked.

Serve the porcini mushrooms and sauce on soup plates, with a fillet of pike–perch in the centre. Garnish with a rasher of bacon.


WINEPAIRING

We recommend serving this dish accompanied by a glass of Pinot Blanc Grand Premier Cru Bech-Kleinmacher Enschberg from "Les Vignerons de Domaines Vinsmoselle
This recipe is produced in collaboration with Kachen Magazine.