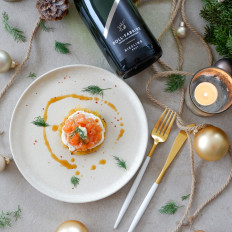 Salmon tartare with soy butter, crispy rösti and fine crème fraîche
4 persons:
For the salmon:
320 g salmon sashimi quality
1/2 shallot
1 lime
1 small bunch of dill
olive oil
Salt
For the crème fraîche
150 g crème fraîche
1 clementine
Dill
1/2 lime
Dried chilli flakes
Salt
For the soy butter:
85 g butter
20 ml soy sauce
30 g brown sugar
10 ml rice vinegar
For the hash browns:
500 g potatoes
30 g clarified butter
Salt
Nutmeg
This recipe was developed by the blog Cooking is Love. 
Season the crème fraîche with the freshly grated zest of the clementine, salt, chilli flakes and the juice of 1/2 lime. Cover with cling film and refrigerate for later.
Melt the butter in a small saucepan with the sugar until it is completely dissolved. Deglaze with the soy sauce and rice vinegar and continue to simmer until the soy butter has thickened a little. Be careful not to let the butter get too hot. Then keep the sauce warm.
Peel the potatoes and grate them finely with a grater. Season with salt and a pinch of nutmeg and leave to stand for 2-3 minutes. Then place in a clean tea towel and squeeze the water out of the potatoes.
Heat the clarified butter in a pan and form small rösti with the grated potatoes. If you have a serving ring, you can use it to help. Fry the rösti on both sides until golden brown.
Drain the finished Rösti on kitchen paper.
Wash the salmon briefly under cold water and pat dry on kitchen paper.
Finely dice the shallot and the fish. Put both in a bowl, drizzle with olive oil and mix with some lime zest and lime juice.
Season to taste with salt and a little dill.
Spread the hash browns with crème fraîche and spread the tartare on top. Drizzle with a little soy butter and place the remaining sauce in a small bowl on the table.
Then garnish with a small dollop of crème fraîche and a dill tip.
Finally, sprinkle with a little chilli flakes.

Find a selection of our wines and crémants in the online shop
and you can also buy all of our wines and crémants in the wine shops:
Remerschen, Wellenstein, Wormeldange, Grevenmacher and Vinocity