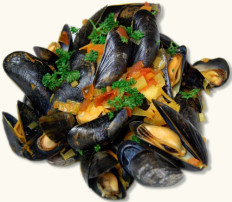 Mussels in white wine
4 persons:
2 kg Mussels,
1 big onion, 5 garlic cloves,
2 Carotts, 1 small piece of leek,
1 celery, 2 soup spoons of butter,
1 bay leaf, 1 dried husk of chili,
1 bottle of dry white wine (0,7 l),
300 g Crème fraîche
• Thoroughly clean the mussels and brush them under flowing water.
• Throw away the ones who are open!
• Chop the onion and the garlic.
• Clean the carrotts, the leek and the celery, wash them and slice them into small pieces.
• Heat the butter in a large pot. Steam the prepared vegetables in it.
• Crumble the bay leaf and put it with the chili also in the pot.
• Poor the white wine on and boil it up.
• Put the mussels in the pot and cook them for around 15 minutes with a cover on it.
• The mussels are open.
• Throw away the ones who are still closed.
• Take the mussels out of the pot and put them on soup plates.
• Stir the crème fraîche into the brew, reheat and poor it over the mussels.
• To be served hot.
Serve fresh baguettes or french fries as side dish.
We recommend you to use a Pinot Blanc to cook with and as table wine.