Contact us
For any suggestions and / or claims feel free to contact us :
Domaines Vinsmoselle
BP 40 | L-5501 Remich
12 route du vin | L-5450 Stadtbredimus
Tél: (352) 23 69 66-1 | Fax: (352) 23 69 91 89
E-mail: info@vinsmoselle.lu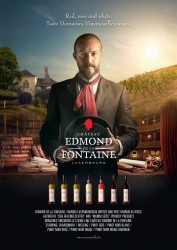 Château Edmond de la Fontaine
Luxembourg, 1850. A man strolls along the shores of the Moselle River.
Behind him, hectares and hectares of sun-filled vineyards and just as many memories of a childhood spent wandering the region. And it's from his native lands that young Edmond de la Fontaine (1823-1891) draws his inspiration. Poet, playwright, composer… he, who is nicknamed Dicks does not know it yet but his works will leave their permanent trace on Luxembourg's literature and folklore. Behind this true epicure and lover of good food and great wines also hides a highly committed man, full of revolutionary ideas and armed with a sharp pen. From Luxembourg to Stadtbredimus, as first justice of peace and later as mayor, concerned with both the Grand-Duchy's national affairs and the Moselle's rural patrimony, the artist is present on all fronts.
Today, it is the turn of Domaines Vinsmoselle's new range of wines to be associated with Edmond de la Fontaine. Like paying homage to the artist's great many talents, discover our various red, rosé and white wines, as well as our three new grape varieties: Pinot Gris, Riesling and Chardonnay.
Video