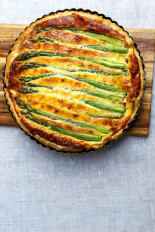 Green asparagus quiche
For 1 quiche:
For the shortcrust pastry:
250g flour
100g cold butter
1 egg
1 egg yolk
For the topping:
1kg green asparagus
1 tbsp butter
1 bunch chopped parsley
100g freshly grated Parmesan or Gruyère cheese
2 eggs
150g crème fraîche
Salt
freshly grated nutmeg
Knead a dough from flour, egg, egg yolk, cold butter and a pinch of salt. Then wrap in foil and place in the fridge for 30 minutes.
Cut the green asparagus into small pieces about 3 cm diagonally and remove the woody ends.
Heat a spoonful of butter in a pan, fry the asparagus with the sugar and a pinch of salt for about 5 minutes. Mix in the parsley and then leave to cool in a sieve.
Roll out the pastry slightly larger than the quiche/tart tin. Grease the tin well and line it with the pastry, forming a rim about 2 cm high. Prick the base several times with a fork. Spread half of the cheese on the base, then pour the asparagus mixture on top.
Whisk the remaining eggs with the crème fraîche, fold in the remaining cheese and season with a little salt and nutmeg. Spread the mixture evenly over the dish.
Bake the quiche in the oven at 170 °C top/bottom heat on the middle shelf for approx. 45 minutes until golden brown.

We recommend the Spring Wine as table wine
Find a selection of our wines and crémants in the online shop
and you can also buy all of our wines and crémants in the wine shops:
Remerschen, Wellenstein, Wormeldange, Grevenmacher and Vinocity