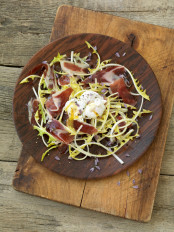 Dandelion salad with poached egg
Pour 4 personnes:
250g young dandelion
4 eggs
8 slices raw ham, cut a little thicker
5 tbsp olive oil
2 tbsp white balsamic vinegar
2 tbsp lemon juice
1/2 tsp honey
Sea salt
ground pepper
chopped parsley
Cut the ham into slightly larger pieces.
Wash and clean the dandelion, shorten any stalks that are too long and shake dry. Whisk the balsamic vinegar with the lemon juice and olive oil, stir in the honey and season with salt and pepper.
For the eggs, bring 1 litre of water with 1 tbsp salt to the boil in a small saucepan. Crack the eggs one by one into a cup and slide them one by one into the simmering water. Leave to simmer for 4-6 minutes.
Mix the dandelion in a bowl with the dressing and parsley and divide onto plates. Top with the poached eggs and serve garnished with the pieces of ham.

We recommend the Spring Wine as table wine
Find a selection of our wines and crémants in the online shop
and you can also buy all of our wines and crémants in the wine shops:
Remerschen, Wellenstein, Wormeldange, Grevenmacher and Vinocity