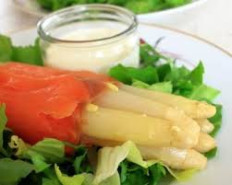 Asparagus with smoked salmon
For 3-4 persons:
1 kg fresh white asparagus,
400 gr smoked salmon,
1 cup finely chopped dill ,
1 cup of lemon balm and finely chopped parsley,
salt, pepper,
5 tbsp balsamic vinegar,
10 tbsp olive oil
Preparation:
Wash and peel the asparagus and cut the hard ends off. Cook the asparagus in light salted water, sugar and 1-2 tbsp butter for 10-20 min. over a medium heat until it is firm to the bit.
Arrange the asparagus on a plate and cover them with thin slices of salmon.
For the sauce: Grind finely chopped herbs using a pestle and mortar. Stir the herbs together with vinegar and oil. Bring the dish to taste with salt and pepper.

We recommend the Spring Wine as table wine
Find a selection of our wines and crémants in the online shop
and you can also buy all of our wines and crémants in the wine shops:
Remerschen, Wellenstein, Wormeldange, Grevenmacher and Vinocity